sustainable fashion brands
Versatile, eco-friendly flats made from recycled water bottles.
Women's ready-to-wear collection made of natural materials and textiles sourced from and developed in collaboration with artisans around the world.
Pajama and loungewear brand with every purchase investing in job creation and skills training for women in India who are working to remain free from sex slavery.
Conflict-free diamond and fine jewelry line. Profits from each purchase fund educational programs in diamond mining communities through The Greener Diamond Foundation.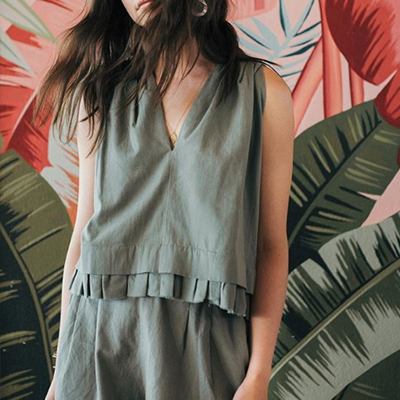 Handmade caftans by artisans in India, with a portion of proceeds going back to partner communities such as the Naam Dev School and Tabaar Welfare Child Society.
Collection designed in New York City using sustainable fabrics and production methods.
Responsibly designed and manufactured womenswear brand that works with carefully selected manufacturing partners in India and Peru.
Beautiful, high-quality apparel brand that donates to help American Forest reach its goal of planting 2.7 million trees across 44 projects nationally.
Luxurious statement bags with limited editions designed for philanthropic partnerships such as Young Arts Foundation and Yamba Malawi.
Skillfully 100% handmade accessories made in Ecuador.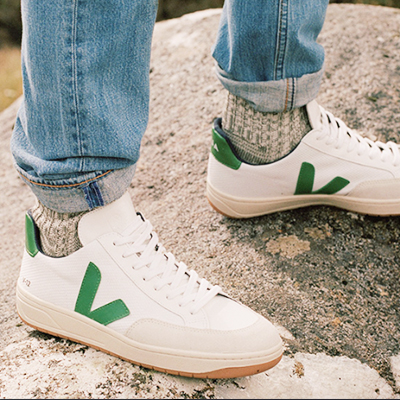 Environmentally friendly sneakers, made with raw materials sourced from organic farming and ecological agriculture, without chemicals or polluting processes.
Responsibly manufactured elegant athletic wear, 100% female-owned and committed to empowering women and giving back.
A vibrant, ready-to-where line that is a champion for slow fashion, preserving centuries-old techniques by working with artisan groups across 10 countries.
Jewelry and bag line where every piece is unique and handcrafted out of mixed metals and silver by artisans in their workshop in Mexico City.
Sustainable and ethically sourced fine jewelry collection, highlighting global environmental issues through design.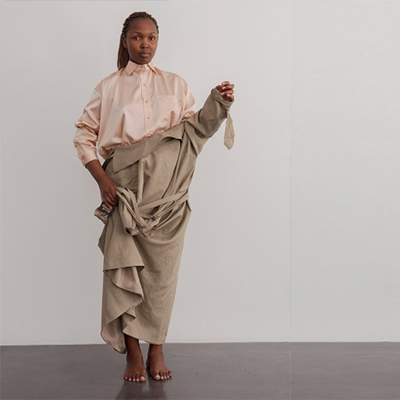 Modern basics in easy soft silhouettes made from high quality, organic fabrics, minimizing environmental impact.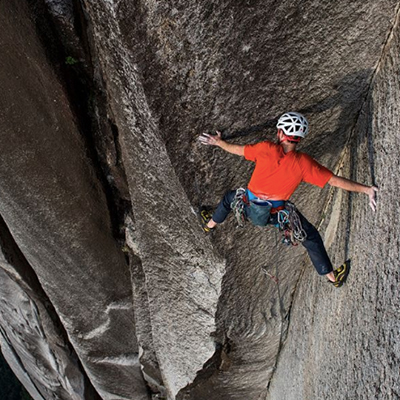 Designer of outdoor clothing and gear. One of the true pioneers in responsible business, corporate social responsibility and the protection and preservation of the environment.
LA based clothing line with 10% proceeds going to partner organizations and charities each season, such as LA Waterkeeper and Inner City Arts.
SPELL & THE GYPSY COLLECTIVE
Flowing, feminine dresses supporting marginalised artisans and crafts people around the world.
Women's fashion brand which launched The White Shirt Project to fight human trafficking, modern day slavery and debt bondage.
Timeless, effortless fashion brand supporting the work of local and international charities such as Teach for America and The Leukemia & Lymphoma Society.
Boho-chic, effortless maxi dresses and printed rompers, with 10% of proceeds of all sales donated to ASPCA.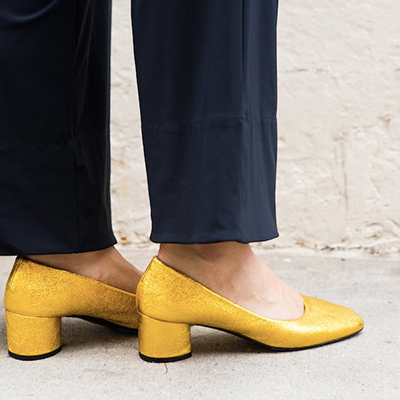 Elegant shoe brand that partners with Native Energy to track its annual in-house carbon usage and offsets this amount by investing in international renewable energy projects.
Artisan weavers in India design and create all of their own dye woven textiles, through a manufacturing process that ensures not a drop of water goes to waste in their facility.
Luxury athleisure brand which partners with a worthy organization each season to help and support underprivileged mothers-to-be.
Conscious women's label with a strong and minimalist design, using sustainably sourced trims and organic cotton certified by Fairtrade Labelling Organisations International.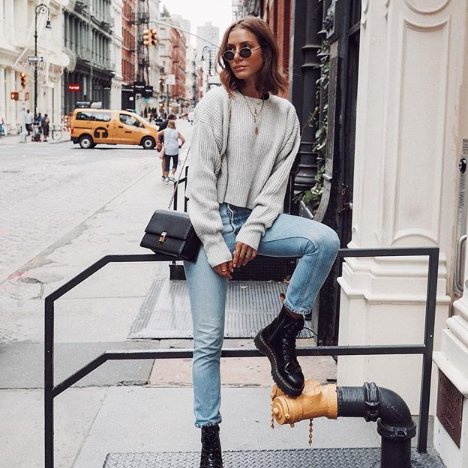 Vintage Levis made from repurposed fabric using water conserving methods and no harsh chemicals.
Timeless apparel and accessories brand that launched the Lean Closet program in partnership with the Violence Intervention Program and Helping Ease Abuse Related Trauma (H.E.A.R.T.).
Sustainable luxury fashion, never using leather or fur, and pioneering new alternative materials.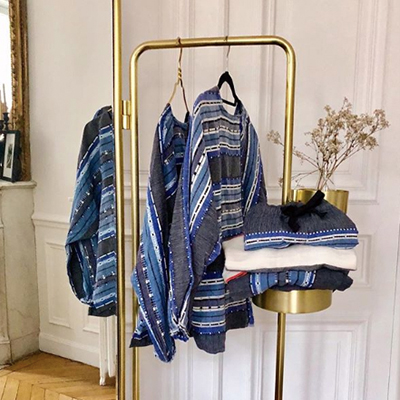 Artisan-driven collection of fashion and home goods made by traditional weavers in Africa. The brand is committed to helping women thrive through its support for lemlem Foundation.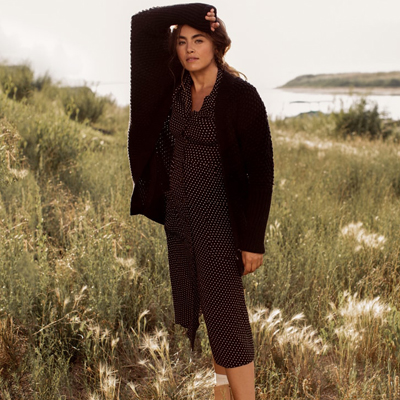 Iconic footwear brand that helps provide shoes, sight, water, safe birth, and bullying prevention services to people in need with every purchase through its One for One model.
Sustainably produced nylon stockings, made from recycled yarn and environmentally friendly dyes.
Ethically handcrafted, easy-to-wear textured pieces designed in collaboration with artisans in Asia and Latin America.
Beautifully crafted feminine statement pieces. With every item purchased, Indian children are provided qualitative education through their partnership with PACT.
Designer eyewear brand that partners with non-profits like VisionSpring to ensure that for every pair of glasses sold, a pair is distributed to someone in need.
Sustainable fashion brand that makes classic staples. With every purchase of a tee, they plant a tree in North America through their partner, American Forest.
Easy to wear, everyday pieces, donating one hot nutritious meal to a child in need for every piece sold.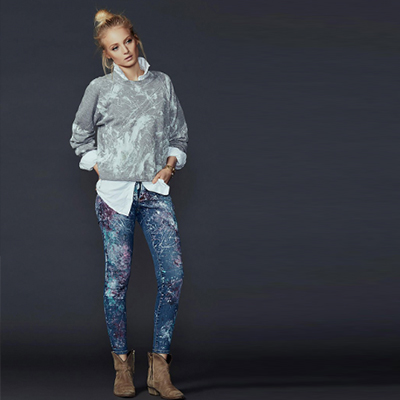 An eco-friendly, philanthropic denim brand specializing in hand-painted, one-of-a-kind vintage product supporting art therapy programs in children's hospitals.
A Mindful Use of Resources (AMUR) sources and creates one-of-a-kind luxurious and conscientious fabrics and is committed to supporting the work of artisans in developing countries.
Bags and accessories line, with each product having a number stamped on it that signifies the amount of meals or micronutrient packets provided with its purchase.
Hard wearing, super soft menswear collection manufactured abiding by the strict guidelines of the Fair Labor Association (FLA) & Bluesign.
Premium, stylish bags for the whole family. For every bag purchased, the company hand delivers a back pack filled with essential tools for success to a local child in need.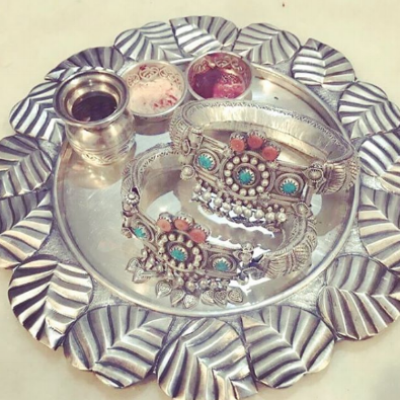 High quality jewelry crafted by local female artisans in New Delhi, in limited quantities.